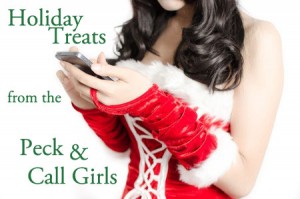 'Tis the season to evaluate whether you've been naughty or nice, right?
But no worries, for no matter what list you are on, a number of the Peck & Call Girls have super sexy holiday treats for you!
Because we know everyone is busy this time of year (including all your favorite female companions!), many of these offerings make it much easier to sneak in a treat for yourself — but please note that some of these holiday specials are available for a limited time only! (Not everything can last as long as Aunt Edna's fruitcake!)
A Slip Of A Girl is now — for a limited time only — offering a look at her Christmas stockings!
Twenty-six (26) rare photos – previously only available to VIPs!
Be a voyeur as Slippy, wearing a vintage ivory satin bullet bra with a matching ivory satin girdle over pink full-coverage panties, as she slips on a pair of vintage textured beige nylon stockings.
PS If you want to see what comes next, message her and maybe you'll get lucky! *wink*
Trailer Trash Angel (who is soooo Not your Angel) wants you to enjoy the holiday season — in femdom style, of course! In addition to that, she has another "sick" option:
Been thinking a lot about this & I want you to get it & perform on cam for Me.
Whether you enjoy our erotic holiday entertainment or not, each of us wish you & yours a joyous holiday season!