Each and every Peck & Call Girl is intelligent, sensual, open-minded, educated, well-read, charming, sophisticated and professional — yet each individual girl offers her own particular erotic specialties too. If you are unsure which Peck & Call Girl is best suited to your needs, please complete the screening form and your best match will be found!
A list of the Peck & Call Girls
(Please note that you are absolutely welcome to contact a girl on your own! However, please do send a Tribute with your introduction; it's similar to buying a lady a drink when you introduce yourself. *soft smile*)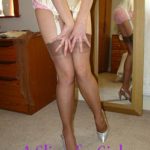 * A Slip Of A Girl: Yes, that fabulous, famous, lingerie blogger is ready to tease and please her fellow lingerie fetishists, crossdressers, & sissies with a frilly good time! You can find more ways to pamper her at her Fickle Knickers blog. For a "slippity-do-da time!" you can — and should — follow her on Twitter @SlipOfAGirl.
Note: Only working with established clients & those who go through our screening process.
Is Slippy taking calls now?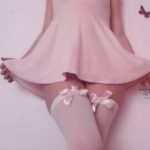 * FK Muse: Writer. DJ. Aural Smut Recording Artist. College Student. Muse, famous for her pierced nipple and ever changing hair, is that girl who knows you better than you know yourself — just give her five minutes, and she'll be inside that head of yours. This FemDom and true cuckoldress loves erotic hypnosis, financial domination, getting what she wants, and long talks about everything. She wears her power well. This mesmerizing muse can be found on Twitter @FKMuse.
Is this hypnotic FemDom available?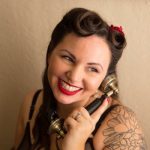 * Jessie Sage: A naturally curious and sex-positive person who loves learning about the desires of all of her clients, and particularly loves helping them realize and play them out, Jessie specializes in the girlfriend experience and values the intimacy that develops over time with regular clients (but a quick and dirty from time to time is fun too!). Well educated, with graduate degrees in philosophy, theology, and gender studies, this former Professor uses this background to weave together intricate and personal fantasies. This tattooed MILF with sexy curves, long dark hair, and a sensual voice also works as an alternative art model, a cam model, and co-hosts a sex podcast called The Peepshow Podcast. On Twitter: @sapiotextual.
Is The Professor in?

* Klaudia, the shy yet lusty librarian: "I work with books by day, books by evening; I fantasize by night. I have shoe shopping nooners." Don't let Klaudia's own professed shoe fetish make you think her expertise is limited to footwear only — she's quite the switchy mistress of kink! Those who love literature, erotic role play involving twisted themes on sacred places, &/or have fantasies about the girl next door will enjoy Klaudia's company. She can be found on Twitter @ThePumpnGrind.
Is The Librarian in?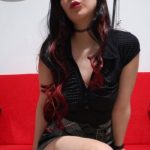 * Sammy Rei Schwarz is the Mistress of Switchcraft. This bisexual, biracial Asian-European kink queen is a unique yin-and-yang balance of opposites with a penchant for punishment. As a natural switch, she loves bringing a submissive to their knees, or getting taught a lesson by a worthy Dominant. She has a particular fondness for roleplaying, erotic hypnosis, and body worship, but is always eager to explore new kinks and fetishes. While she can be deliciously wicked, she loves sharing intimate secrets – guaranteed judgment free. With her gift of words, Sammy will weave you a sensuous fantasy you'll remember long after you cum. Follow her on Twitter @SammyReiSchwarz.
Is this secret freak ready for you?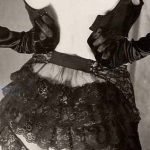 * Secondhand Rose is a former escort who now uses word play as foreplay in her new work as an erotica writer, phone companion, and virtual conversationalist. Don't worry, it will feel completely real because Rose's previous in-the-flesh sex work skills are now applied as emotional and erotic friction, aimed at addressing the loneliness which underlies what some would call just plain old lust. This courtesan seductively torments via text & telephone in her Ruined Boudoir. You are invited to follow her on Twitter @RuinedBoudoir.
Is there room in Rose's Ruined Boudoir?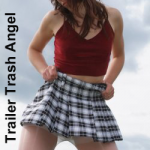 * Trailer Trash Angel wants you to know that she is not your Angel. She may be authentic trailer trash, but this bewitching brat has been using her good looks and gypsy lineage to dominate, mesmerize, mock, and use men since she's been of legal age. As The Celebutaunt, she specializes in taking humiliating tease and torment to new lows. This Queen Of Mean FemDom and FinDom can be found on Twitter casting her spell on piggies like you as @TrailerTrashGirl.
Dare to approach her now?

Whether your Peck and Call Girl is naughty and flirtatious, direct and dirty, or down-right trashy, you can rest assured she is professional, discreet — and will charm the pants off you!